Post-Book Depression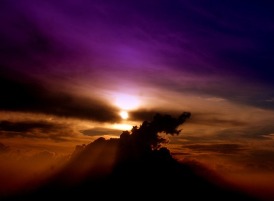 I'm depressed. Yesterday was Mother's Day and I miss my mom butt that's not why I have the blues.
Two weeks ago I finished my latest book, The Gypsy Thorn. It's a paranormal urban fantasy and a prequel novel to a new vampire series. The new series, The Evening Bower, will begin later this year (hopefully). So, you may ask, if I have a book in the can, why am I depressed?
Because the book is done.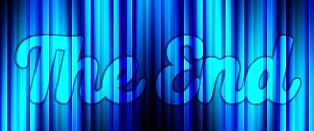 Sound silly? I suppose it may seem that way. I have written three books of poetry, one memoir, one photography book, and one urban fantasy. Now I have this new book and it will be published any day. Putting a book "to bed," typing "the end" (figuratively), isn't new to me and you may be saying, "why aren't you celebrating instead of bemoaning?"
Let me explain and then maybe you'll understand what I mean. With the photography and the poetry, I didn't deal with a character. Yes, my poetry discusses a variety of "characters" but not a sustainable one, not one that has a complete substance.
With the memoir, the topic was me and I was happy when the book was done and published. I released me and it set me free.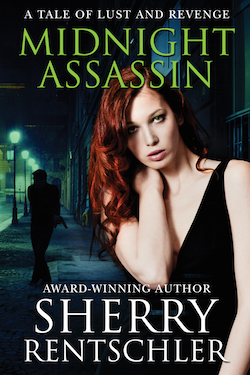 With the urban fantasy, Midnight Assassin – A Tale of Lust and Revenge, I told a story that I new would continue. The main character – the vampire Drahomira – was due to return in the new book and so I didn't feel as though I walked away from her or left her. I never felt that I ever left the story. Instead, Dra hovered near me as I wrote this new book where she is the driving force. Maybe you could say we got very close.
However, when I finished The Gypsy Thorn (GT), Drahomira's work was done. She was the tool I used to prepare my readers for the series where Drahomira is not the main character. She is one of the important people (and will have her own off-shoot series) but she is not the character on which the series is based. And putting an end to GT closed the door on my favorite bad girl. Her voice stopped and I was alone. Hence the depression.
I hear from other authors and many experience this feeling. I haven't given birth so I don't know post partum depression though some have said that birthing a book is similar. It is my baby. Every single one is a labor of love and I give everything to it. I am told that this feeling of "letting go" is much like seeing your children move on, graduate, leave home, etc. I can't speak to that, but I do feel sad to see it end. And I do miss her not being there to whisper in my ear.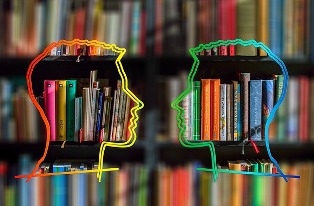 As a result, I am hard at work on the next book. The new characters (introduced in Midnight Assassin and GT) are shyly stepping up and demanding my attention. New whispers fill my ear. But I did want to tell you how I am overcoming this lingering, last book sadness.
Book completions are both joy and sorrow. The joy is pride and a sense of accomplishment. There is no feeling in the world like finishing your story. The sorrow is finishing the story. As with any book I read, I feel satisfaction and a little sadness in ending. That's the key. Ending.
I realized I needed to let go. I also realized I need not grieve! Nothing is over. The new story begins, and characters continue. Things are not done yet! There is more to tell.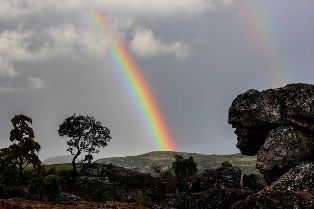 And that is my answer to you. When you find yourself in a little bit of the blues, in sorrow of your book's end, then begin anew. Take your joy in your success and reseed, regrow, renew!  Be happy and proud, congratulate and celebrate.  And hey, it's okay to be blue.
To be sad is understandable but not to remain that way. Each author must find a way to move forward, and when you do, you will give birth to new exciting characters and new stories. But first, release yourself.
I've heard authors say, "I gave my all to that story. I don't know if I have anything else to write about." Pish posh. You need to let go! Blood renews itself. Mine did. Yours will, too.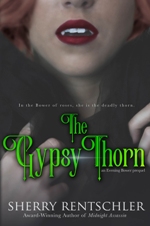 Today I am nearly over being blue and excited about The Gypsy Thorn's upcoming release THIS MONTH. Keep checking here and on my Facebook Author page for info.
And the new book, Time and Blood? Oh what a deliciously tangled web we weave! I'll see you with this one in October.
Meanwhile, I hope your Mother's Day was lovely and that you have projects you can sink your teeth into with joy and gusto. As for me, the vampires are calling and demanding my attention. And THAT makes me happy!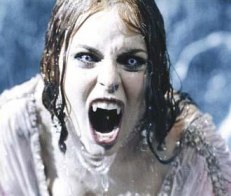 Thanks for stopping by and keep writing.
Yours Between the Lines,
Sherry
(Midnight Assassin cover by Robin Ludwig Designs)
(The Gypsy Thorn cover by Marisa-rose Shor of Cover Me Darling)