The Legacy of Traditions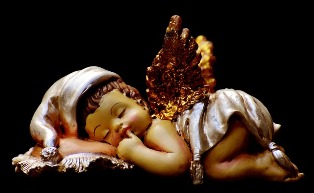 THE LEGACY OF TRADITIONS
As I prepared for Christmas this year, I went through my usual, annual habits and realized some of my habits were in fact greater than such a trivial label.  Many of my habits are actual  traditions, made so not by me but from a long list of women who prepared for hundreds of Christmases before me.
I guess my realization began as I gathered the tablecloths from the bottom drawer of the sideboard. In the bottom, lovingly folded, the white tablecloths with candy canes, cookies, and Santa stockings were waiting for their annual viewing.  I inherited these tablecloths from my mother who got them from my paternal grandmother, who received one of them from my great-grandmother.  I removed these cloths and as I passed my fingers over the well-worn pattern, I realized that I was standing, walking, and working in the shadow of a great Christmas tradition – the ritual unpacking and ironing of the cherished linens.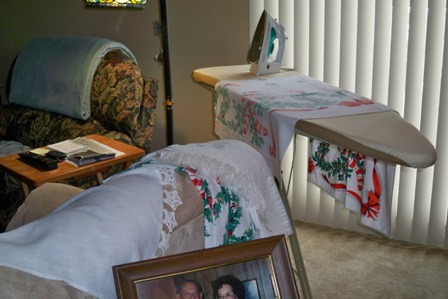 From 2009
How many times had I seen my grandmothers and mother stand beside the ironing board and watch the back-and-forth motion accompanied with the "sssshhhhh" of steam rising from the freshly washed, pristine cloths?  How often did I marvel at their patience as they performed this ritual ironing, wondering why on earth would they bother (you know teenagers and their lack of "big picture" living)?  How often did my mother send me to the kitchen to refill the little spray bottle with cool water, used to dampen the heavy cotton cloths and eliminate wrinkles?  I even have a memory of a great "thud" of a true cast iron as my grandmother labored over very old, thick, cotton tablecloths with an oven-heated iron. Talk about arm muscles!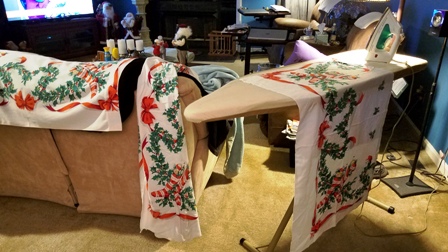 This year
As I pulled out my ironing board, all these memories and thoughts rushed back. I had a small, self-satisfied moment as I realized now I was a part of a wondrous past, a line of great women who continued a truly satisfying tradition of Christmas linens.  I need not ask "why go through all that ironing" as I look at my dining room or kitchen table.  I can't help but smile, proudly I admit, as I spot the Christmas table cloths with candy canes and Christmas stockings draped over sofa tables or the sideboard. There is a Christmas magic of which I am now a part, as woven as I am into this tapestry of tradition.
Need you ask why a woman who never irons at any other time of the year, irons once a year for Christmas? Call it part of the decorations?  Sure.  But it is so much more to me now.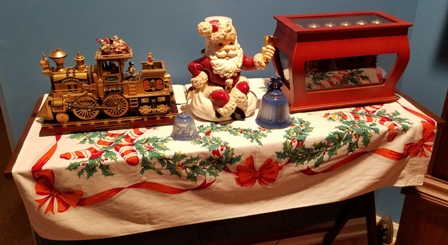 This is the legacy of traditions. Like the corn soufflé served over certain holidays but only once a year. Like serving ham on New Year's Day, turkey on Thanksgiving,  or goose for Christmas. Like red, white, and blue decorations for Fourth of July but only that day. These are the things we expect, demand and rely upon as legacy and heritage. Whatever we grew up with or adopted and continue throughout our lives, these matter. These actions and items are comforting and fulfilling because they are part of our "life identity."
Just like I must have chocolate chip cookies that include a box of Jell-O Pudding to keep the cookies soft, and I must bake these just before Christmas. As I turn on my mixer, I am transported to an older kitchen where other women mixed a batter just like mine and turned out chocolate chip cookies as I will do, to the delight of the house. Habit? Tradition? Legacy.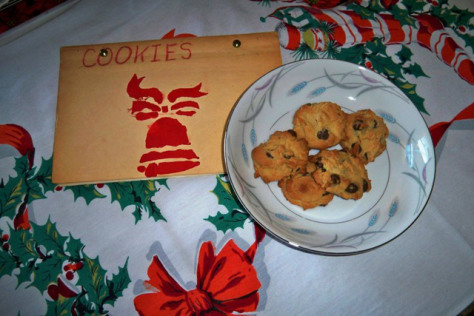 As an author, this legacy of tradition matters in your writing too. Each book in a series builds on a legacy. The familiar habits of your characters, the places they go regularly. The friendships they develop and the depth of each relationship changes and is enriched in ever chapter, in every book. Every story revisit is a chance to use the traditions and the legacies that you give your readers. And like things we do for ourselves over holidays (even birthdays), so the readers feel taken into your family of stories when you surround them with traditions which completes legacies and legends.
Build these traditions from the beginning in your stories and when you can, repeat them as your stories continue. Pay attention to your real life legacy of traditions and as you enjoy the habits of the season, remember you can give your readers the same joy. Whether you mirror, mimic or create new ideas for your characters and their lives, remember the legacy you leave in your stories can be as real to your readers as your enjoyments are to you.
***
ANNOUNCEMENT:  Be sure to join me in my monthly Facebook Live chat on Thursday, Dec 21 at 10 am EST. And come back to Facebook later in the day for a BIRTHDAY CELEBRATION FOR DRAHOMIRA – she's turning 1000 (well, actually 1020 but we're keeping to the stories). And she's got a surprise for you which I will tell you about during my chat!
***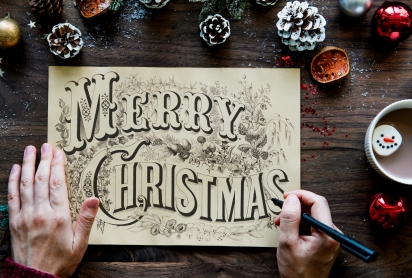 I wish each of you a very Merry Christmas and a joyous New Year. I won't have a blog post for you on Christmas day but I will have a Year in Review post to celebrate the opening of 2018. Come back then and share tales of your Christmas with me.
Here's to Auld Lang Syne, a song that means "for the sake of old times" and reminds us to cherish old friendships, good health and to toast the new year. Here's to you! See you next year and thank you for joining me this year as we all strive to be the best we can be.
I remain,