Last week I introduced you to my new personal assistant, Terri Wilson. Since my announcement, Terri has been busy getting organized, making spreadsheets, opening new social media platforms, investigating bloggers and book reviewers, and prepping for our new street team.
What is a street team? Basically it is just what it sounds like. For authors, it's a team of people whose purpose it is to "hit the ground running" in an effort to promote an author and the author's works.
You may ask yourself what I ask myself – if I am not a bestselling author or even a highly popular one, then how can I have a street team?
Ah, grasshopper, that is the point! A street team helps an author spread the word about his/her books, promoting to libraries, book groups,. bookstores, colleges, writing groups – anywhere where people read or might be interested in the named authors writings. The idea is to help promote the author to new people and improve the author's visibility.
A street team is a valuable resource in social media too. Their promotions on Twitter, Facebook, Goodreads, Pinterest, Instagram, Tumblr, Google+ and other platforms can truly help authors find their readers, new readers and a niche for their work.
The value of street teams cannot be underestimated. I've learned the value of them from several prolific authors like Jackson Dean Chase and, my dear friend, Robbie Cox, just to nightlight a couple. The publicity street teams provide and their tireless faith and promotion truly increases book reviews and fan bases.
And that's what I need in order to be a name you'll recognize more readily.
Also, a good street team can be a reading pool where an author can find beta readers among the supportive fans, as well as other areas of expertise. Additionally, these readers can offer great suggestions of what can be done on social media as well as what authors might want to write going forward.
I'm excited to open this new Street Team. Anyone who is "local" will have a chance to meet up with Terri and me and have some fun working together.  Team members from other areas and across the country/world will hear from me exclusively too, we just won't get in person contact.
#teamphoenix
There are two links to the page about Sherry's Team Phoenix. You can hit it here, from the main page, or jump to the info page under Press, News and Events. Help me spread the word and let's help new readers discover the magic between the lines! Terri is eager to take your name.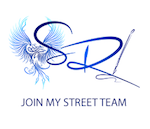 Sherry
_________________________________________________
****The following items will always appear to keep you posted on activities.*****
WIP (Works in Progress): – NEW BOOK OF POETRY! – expected release July 2016
– first novel in the Evening Bower series, about vampires and other supernatural creatures
– fictional memoir – November 2016!
– four-part fairy story (part one complete)
On the Desk: (next reading): waiting a new book by Carolyn Haines
Off the Desk (book just finished): Gone With the Witch – Heather Blake
Coming Soon:  Are you writing every day? Why you should and how I can help!