Paper Bones
Poetry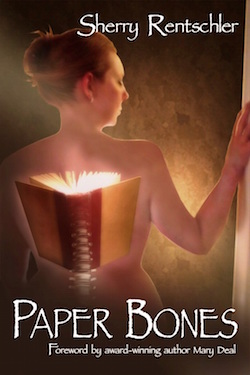 Who says poetry has to be boring? Why can't poetry be an adventure where you discover heartbreak and "happy endings" as well as sorrow and emotional drama? Who says poetry has to be dull and archaic instead of thrilling or even funny?
Adventures await in this poetry collection filled with stories and tales of humorous moments, chilling anecdotes, and sorrows to break the heart. Experience poetry as voyeur, culprit, victim, and coach. Examine the teenager who barters her soul just to get by, or the woman who runs away from an abuser, or the abused who, sadly, never made it out. Laugh with the inexperienced young lovers or sigh with profound joy shared between old married couples. Rage at apathy, sneer at ineptitude, then meet a living nightmare. Finally, stand proudly beside sacrifice and honor.
Within these pages, the familiar unfolds in fresh, poetic rhythms with unique viewpoints. Far from boring, this is poetry for everyone. With luck, the verses will etch themselves in your heart and live forever in the bone.